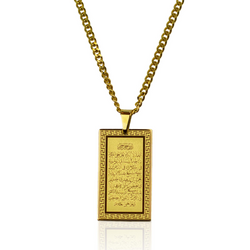 Ayat al-Kursi also known as "The Throne" is perhaps the most well-known verse of the Quran and is widely memorized and displayed in the Islamic world.
This Ayah is said to remove all fear: If you are afraid of someone or want to avoid the wrath of any unlucky event which seems to be coming your way, start reciting the ayat and rest assured, you will be protected be given strength by Allah to the utmost level.
Product Details
Made from the highest quality 316L stainless steel and dipped in real 18 karat gold
24 Inch curb chain included
Waterproof - wear it in the shower, pool, wear it while training or exposed to sweat and heat - this necklace is built to last - do not worry.
Never Fades - Its texture is very tough and does not tarnish and oxidize
Unisex 
PROMISE/GUARANTEE
Guaranteed to never fade, tarnish or lose its colour - this necklace is built to last and has a gorgeous natural gold aesthetic.
SUPPORT
View our size guide and shipping details just below - for customer support email support@justduait.ca
SHIPPING
Ships from Toronto, Ontario via Canada Post
🇨🇦 Canada | 3-5 business days
🇺🇸 USA | 6-10 Business Days
🌏Rest of world | 9-14 Business Days
* Tracking number will be available within 24 hours of placing your order. 
Express Shipping 3-5 business days (USA & Canada Only)
Standard Shipping 6-10 business days (Rest of the world)
We use the following carriers: Canada Post, USPS, DHL & Fedex
*Custom jewelry orders may take an additional 1-2 weeks as they are crafted specifically for you ♡
RETURNS
With all this being said on
ce your order has been shipped we will be unable to make any changes to your order
. Normally we do not issue a refund until you return us the product as like any other business but if you are in desperate
need
of the
money
we can issue a refund now in hopes you return to us once you receive it.
As always thank you for supporting our vision and wish you nothing but the best!
Thank you,
Sanaam Memon
Founder
Necklaces 
Bracelets
One size fits all - Fully Adjustable 
 Rings